Karakoram Nomad
Regular price
$699.00 USD
Regular price
Sale price
$699.00 USD
Unit price
per
Sale
Sold out
Whether looking to wander or have a set peak to climb, the Nomad has you covered. Our workhorse binding based on the principles of our original SL, the Nomad has our X-Type Chassis, Reactive Highback and new AirPod strap. Light and bomb proof the Nomad will take you anywhere.
The Karakoram Nomad + Split Interface Splitboard Bindings are made for climbing peaks, out of bounds adventures, and backcountry missions big and small. Built off Karakoram's original SL line, the Nomad features a Reactive C4 carbon highback and easy to use Ride Mode 2.0 for lightweight, performance oriented stability on the up and the down. Equipped with the brand new Air Pod straps, the Nomad avoids pressure points, even in tight spots. Let your backcountry spirit go wild, get into a pair of the The Karakoram Nomad + Split Interface Splitboard Bindings and get after it.
Tour Mode
Dual Ride Stride – Saving energy in the backcountry can be the difference between going for a second lap, going for a longer tour, or going home because you're wiped out. All Karakoram splitboard bindings come standard with Dual Ride-Stride forward lean. With a -8° forward lean setting, Stride Mode allows you to stride and glide further with every step. Dual Ride modes allow you to effortlessly switch between railing carves and surfing turns. Drive Mode consists of a preset useradjustable forward lean (0°-22°), and surf mode can be activated without unstrapping (11° or 0°). Simply turn and go. Dual RideStride is the fastest and easiest forward lean adjustment available.
Smooth Touring Pivot – Independent sleeves rotate freely on a fixed thru-axle, similar to a bike axle, making these stiff and smooth. They're wide for touring rigidity, they shed snow well, and the quick-releasing bracket allows for simple transitions.
Dual Speed Riser with Heel Lock Pole Basket Flip – Flip up/down with pole basket on the fly. Retractable Heel-Lock included.
Heel Lock – On-the-fly heel lock down Release load equivalent to DIN 6 Heel-Lock folds out of way when not needed
Ride Mode
Dual Ride 2.0 – Active Joining pulls your splitboard together and keeps your feet spring-loaded to the board, giving you direct power transfer to the edge and instant response in a way that passive, slide fit splitboard systems cannot.
Active Joining – No slop with instant response. Pre-loaded contact points create an ultra solid connection between your bindings and splitboard.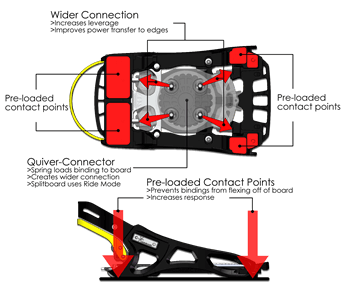 Interlocking Seam Tabs – No separation: tabs interlock across the seam of your board, interlocking and pre-loading the two halves for a solid ride.
Snow Ejection Channels – Made from a carbon infused nylon, the Ride Mode 2.0 is designed to reduce snow build up and clear snow easily.
Baseplate
7075-T6 Open Chassis – CNC'd completely from 7000 series space grade aluminum, the open chassis allows your bindings to twist naturally with your board. Say no to dead spots under your feet.
Nomad X Type Heelcup – 2X stronger than standard aluminum. CNC core outs maximize the strength-to-weight ratio. The high sidewall supports boot for better power transfer and grip while side hilling.
Drop-On Change Overs – Active joining allows for a loose fit then closing the lever LOCKS your binding to board, removing all play from the system.
Flex (1 Soft - 10 Stiff) – 6
Straps
Air-Pod Straps – Made from P-Lite TPE, which is 30% lighter than standard TPU. These lightweight straps feature Independent Pressure Pods that articulate to eliminate pressure points.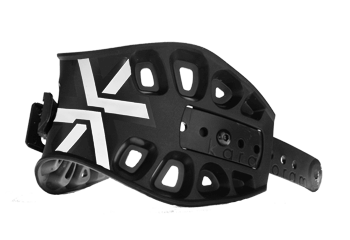 Buckles
Carbon Buckles – Made from recycled carbon fiber tow, these buckles are not just strong and light they use carbon fiber that is destine for landfills.
Highback
C4 Carbon Highback – Reducing weight while adding a little stiffness to a trusty Reactive Highback contour. Made from Karakoram's proprietary Carbon Nyolite.
Flex (1 Soft - 10 Stiff) – 8
Compatibility
Compatible with Standard Splitboard Inserts
Compatible with Karakoram PRIME Quiver-Connectors
Additional Features
Includes – Bindings, Prime Splitboard Interface 2.0 with Tour Brackets and DualSpeed Risers w/ Heel Lock
Direct Power Transfer – Wide binding contact = power transfer directly to edges & tip to tail.
Wide Contact Points – Wide binding contact equals power transfer directly to edges and tip to tail.
Ability Level:

Intermediate-Advanced

More 

Mounting Pucks:

Yes

Made in the USA:

Yes

Warranty:

2 Years
Size
S
M
L
Weight (g)
640
Share